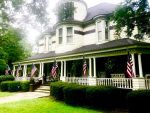 We are a 24-bed Personal Care Home for the elderly and disabled. We welcome private pay and Medicaid clients through the CCSP (Community Care) or SOURCE programs.
605 S Lee St
Fitzgerald, GA 31750

We are a personal care home with five bedrooms and four bathrooms offering six beds to residents. We provide 24/7 supervision and care, three delicious home-cooked meals each day and transportation as needed.
515 W Central Ave
Fitzgerald, GA 31750