Hungarian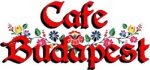 Address:
293 Benjamin Hill Dr
Fitzgerald, GA 31750
Sylvi & Zsuzsi are sisters. They grew up in a small town about 20 miles east of Budapest, the capital of Hungary.
Hungarian people are well known for their hospitality and manners. A visit to a Hungarian home always includes service of the finest food and pastries available to the hosts. It's also common that a bottle of the most prized 'spirits' in the house be uncorked. It's a matter of pride as well as good manners. Good food and good conversation are hallmarks of a Hungarian get-together, and Hungarians like to get together! Sylvi & Zuszsi invite everyone to come and experience a little bit of Hungarian hospitality with them at Cafe Budapest.