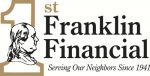 For over 75 years, we have been helping people "do life." This may include assisting with the expenses that come with a wedding, a new family addition, the remodeling of a home or some unexpected expense. While life can cost money, we are always here to help.
At 1st Franklin Financial, we offer loans anywhere from $300 - $15,000 so you can enjoy that vacation, get back on track, get ahead and continue doing what you like best in life!
Interested in a personal loan, debt consolidation or our Premier Loans? Let us help.