Dorminy-Massee House, Inc.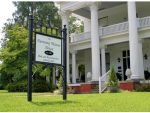 Featuring six charming bedrooms each including a private bath, television, telephone and wireless internet. An elegant living room and parlor add further to the extravagant living environment of the Dorminy – Massee House. The beautifully landscaped grounds feature a goldfish pool, a smokehouse and a gazebo. Experience the elegance and warmth of Southern Hospitality at it's finest!
Dorminy-Massee House, Inc.